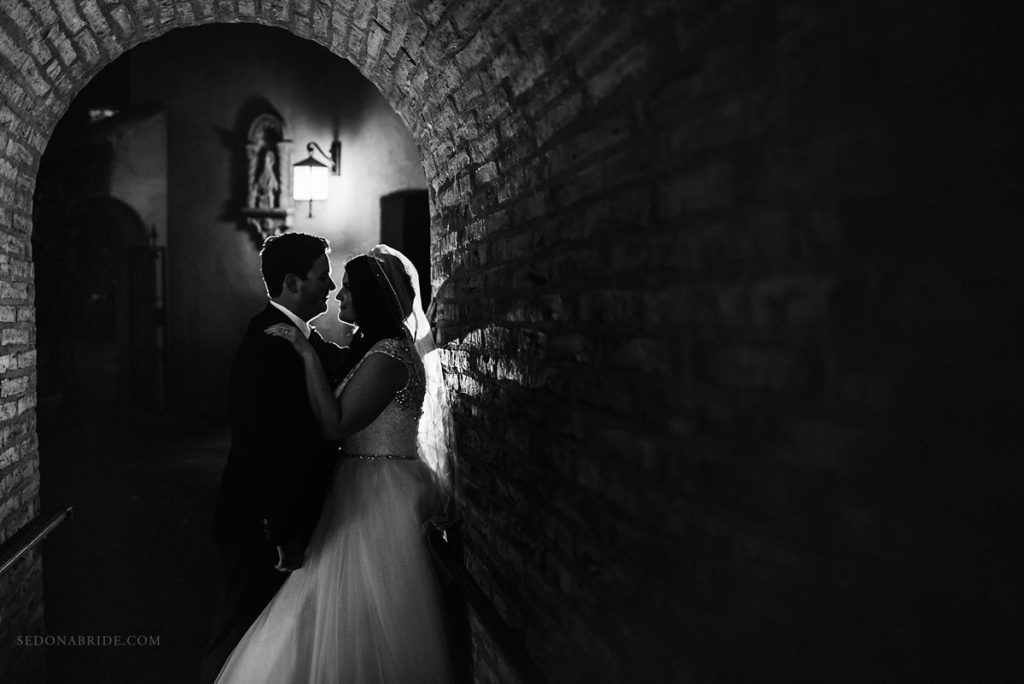 We invite you to take an exclusive journey with us, as we celebrate the marriage of Naomi and Andrew—they came all the way from Virginia to get married in our quaint town of Sedona! We had a blast planning their wedding, and being there on the day itself to watch them infuse their experience with laughter and meaning was truly a gift.
Tlaquepaque lived up to its meaning, "Best of Everything" on the day of Naomi and Andrew's wedding, a uniquely beautiful backdrop for a uniquely beautiful couple! A symphony of bright flowers adorned the event, as hot pinks and deep purples nuzzled together in bouquets and arrangements bursting with orchids, hydrangeas, anemones, lilies, roses, callas, ranunculus, freesias and stock, all artistically arranged with a "pop of whimsy" by Mountain High Flowers. What a perfect accent to the emerald green dresses Naomi chose for her attendants! Their closest family and friends anxiously anticipated the couple's arrival, as Eric Miller's guitar gracefully set the mood with the classic melody of Pachelbel's Canon in D. At that moment we watched gorgeous Naomi walked down the aisle to meet Andrew, her handsome husband-to-be. The ceremony was performed by our own Rev. Susan Perry, who herself had a hard time keeping her eyes dry!
Then on to the sparkling cocktail hour and stunning reception! Verve Events & Tents set the stage with tables and chairs, specialty linens, dinnerware, and more, creating an oh-so enchanted evening. Filling the plates with delectable fare, and the glasses with luscious libations, was Bonnie Grant and her crew from Rosalie's of Sedona. The evening was topped off with a simply exquisite lemon lover's cake with raspberry filling by Marla Hutchison Cakes.
There to creatively capture each memorable moment were top-notch Sedona-based photographers Katrina and Andrew of Sedona Bride. From the casual engagement photos, to the bride and groom "selfie" just after the ceremony, to the quiet moments stolen under an arch made of bricks, and so much more, Sedona Bride was there to capture it all.
Naomi and Andrew were such a joy to work with, that it didn't really seem like work! They were so loving and inclusive, so responsive and appreciative — what a pleasure! We'd like to take this moment to thank Naomi and Andrew for choosing Weddings In Sedona for their "day of days." And, we wish you, Naomi and Andrew, a lifetime of delightful experiences, woven together with miles and miles of laughter, happiness and contentment.