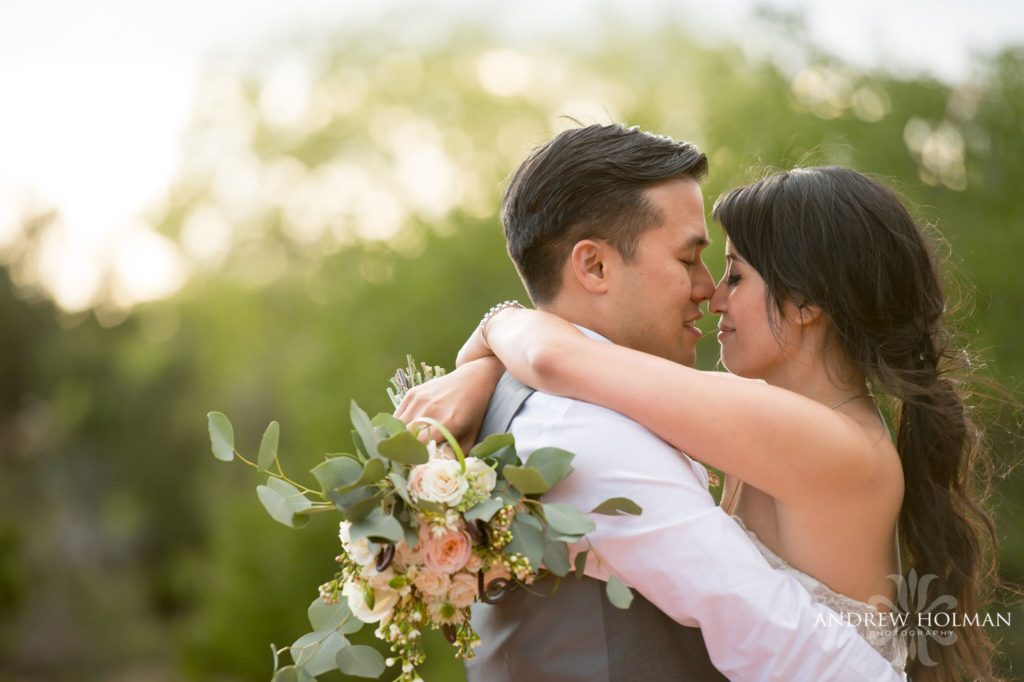 The enchanted world of Harry Potter served as a bewitching backdrop, as Andrea and Jimmy brought their family and friends together to witness and celebrate their joining. This couple's joy was palpable, as you can see from the photos, with their laughter woven throughout all of their wedding events! And each event had a different location: their First Look was at A Sunset Chateau, and at the exquisite Agave of Sedona the vows were exchanged on the Ceremony Terrace, the cocktail hour was on the Celebration Terrace, and the reception was in the Montage Ballroom. They even enjoyed a romantic photo shoot at Merry Go Round Rock! Andrew Holman brought his photographic expertise to each shot, guaranteeing memories that will last a lifetime.
The ceremony was graced with unstructured romantic flowers by Bliss Extraordinary Floral, and elegant music flowed from Marion Maby's violin.
Andrea and Jimmy's classy Harry Potter-themed reception included a Sorting Hat to guide guests to their seats, with the sign reading: "Catch your key to find your house (seat)," and passages that were turned into paper flowers alongside candles as centerpieces.
From the First Dance, "How You Love Me" to the Last Dance, "Beautiful Now," Downtown Browne rocked the scene! Reliable and festive Verve Events and Tents supplied the rentals, and our own Susan Perry helped with portions of the planning, and tended to each and every detail throughout the entire day.
Andrea and Jimmy, we are so happy that you chose Weddings In Sedona to partner with you on your special day, and we wish you a great deal of magic and wonder, laughter and love, in all of your future adventures as a married couple!