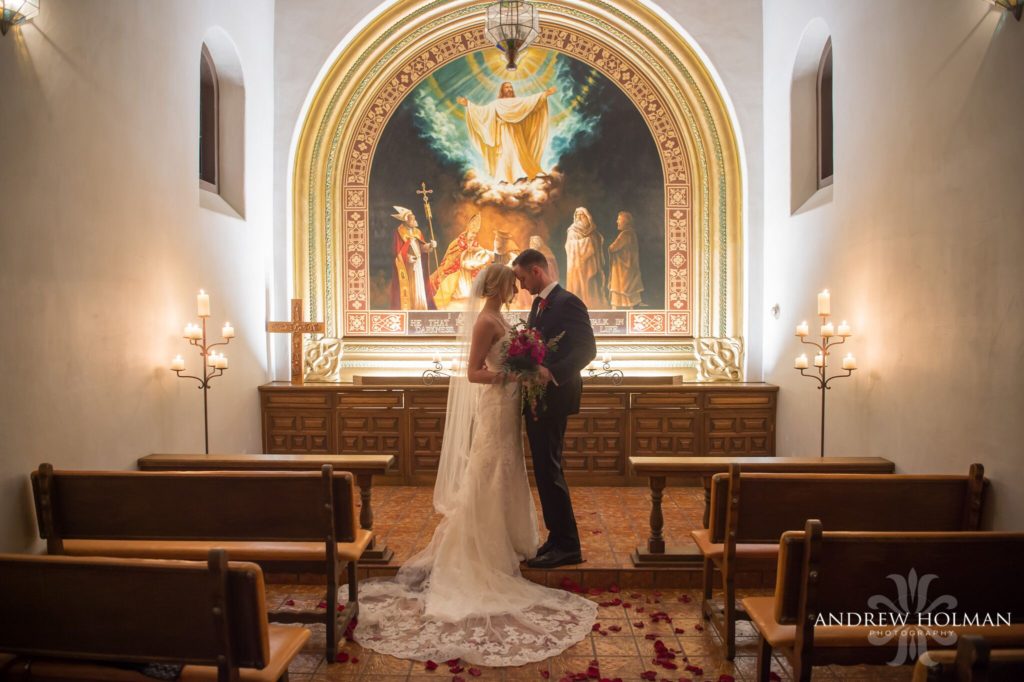 A shining golden grace was palpable, as it wove throughout Chelsea and Colby's wedding. From the crisp medallion leaves adorning their romantic and playful engagement photos, to the mid-December glow of the setting butterscotch sun, as it slipped through the canopy of leafy trees to catch a glimpse of that delightful moment, the First Look. It was nestled in the cozy courtyard of the El Portal hotel, where our bride and groom set eyes on each other for the first time on their wedding day. With their cherished teacup Pomeranian Chi Chi (proudly displaying a natural golden crown) tucked safely under arm, Chelsea and Colby made their way to the charming Chapel at Tlaquepaque. The melodic beauty of Elizabeth Elgin's classic gilded harp accompanied Chelsea, as she walked arm-in-arm with her beloved and proud parents down the aisle, sprinkled with flower petals complimenting her splendid bouquet of deep reds and maroons. All of the floral designs were meticulously created by Sedona Fine Art of Flowers. The sweet affection of their intimate circle of loved ones enveloped them, as the spirit of God's love for this devoted couple infused their sacred ceremony, led by long-time Sedona officiant Anthony Flesch.
Before, during, and after the ceremony, expert photographer Andrew Holman could be found lending his gifted eye to every shot. Our newlyweds were so taken with his work, that he is now their official family photographer!
The ambiance of Tlaquepaque with its holiday décor made for an especially festive backdrop, and although well past Autumn, there were wispy, autumnal-like leaves carpeting the ground. We'd like to give a nod of appreciation here to the unsung heroes behind Tlaquepaque that made the magic of Chelsea and Colby's wedding happen, owner Wendy Lippman and manager Liz Mohler.
After the photos, it was off to the reception! Chef Lisa Dahl is credited for hosting Chelsea and Colby's reception celebration at the newest addition to her Sedona family of restaurants, the exquisite Latin Inspired Grill, Mariposa. And anxiously awaiting the wedding party's arrival was a delightfully delicious spiced carrot cake with cream cheese filling, and salted caramel cupcakes by Marla Hutchison Cakes.
Northern Arizona Limousine shuttled our happy couple and guests to and fro throughout the day and evening with elegance, and the expertise of Taltos Video Productions will enable Chelsea and Colby to relive their wedding over and over again throughout the years.
All of the elements of our finest, most complete package, the Tlaquepaque Completar were brought together at just the right times, to create a truly enchanting wedding experience for Chelsea and Colby.
The first definition of grace from Dictionary.com is elegance or beauty of form, manner, motion, or action. This couldn't more appropriately describe our bride, Chelsea. Their second definition of grace is a pleasing or attractive quality or endowment. The quality of graciousness truly shines in and from her. From the beginning to the end of the planning process, Chelsea showed us nothing but grace. Her kindness is palpable, and when we met Colby, it was clear they were a match made in heaven!
It was our absolute honor and pleasure to plan your wedding, Chelsea and Colby, and we can't wait to see your family grow over the years, infused with the golden grace of your love!