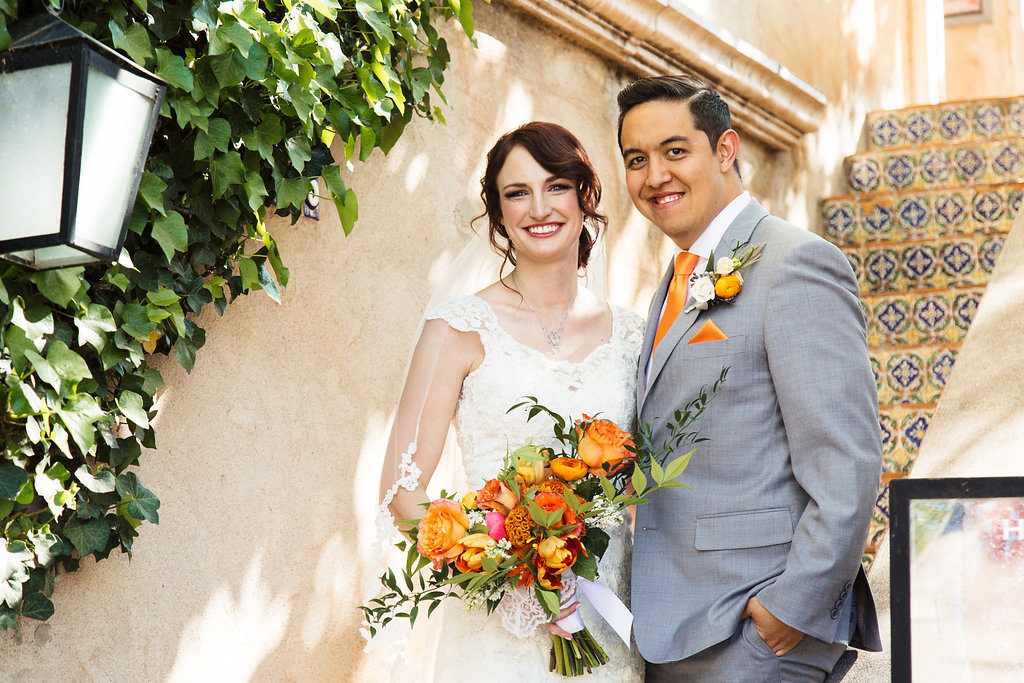 The Tlaquepaque Arts and Crafts Village, located in the heart of Sedona, provided the perfect ambiance for Megan and Darren to join their hearts together! We were happy that they chose us to provide our "Day Of" services for their wedding, so they could be free to thoroughly enjoy each and every moment of the day!
Megan and Darren had an awesome time, as you can see from the stunningly creative photos by Addie Mannan Photography. Their special day was filled with an exquisite blend of gentle moments, emotional exchanges, mischievous expressions and gleeful celebrations!
Splendid flowers were provided by Bliss Extraordinary Floral, and at the center of them all was Megan's unstructured crescent-shaped bouquet, abundantly filled with orange dahlias, white lilac, deep orange peonies, orange ranunculus, light orange garden roses and Queen Anne's Lace. Megan chose the popular Sedona Beauty Team for her hair and makeup.
Megan and Darren's lives became as entwined as the bright green ivy vines that arched overhead. They exchanged their loving vows while friends and family happily gave their support to this marriage.
And then it was time to make merry at the reception! The festivities were enjoyed by all, as the evening ended with dancing under the stars.
Megan and Darren, we thank you for inviting us into your incredible day, and we bid you a final farewell, as you continue to transport the joy from your wedding day into all of your future endeavors!