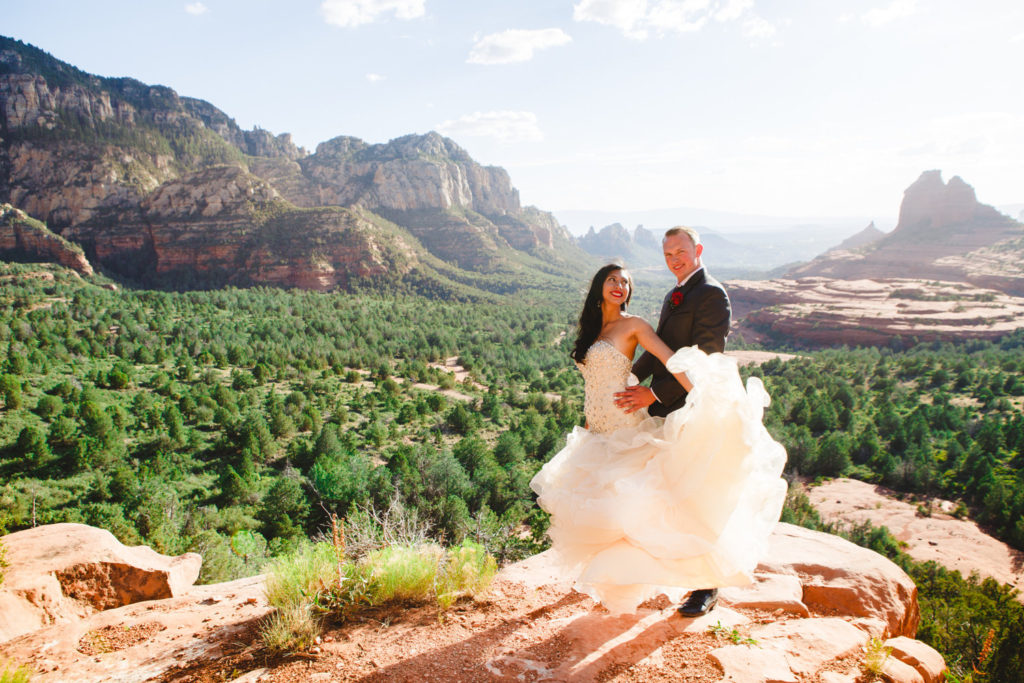 Our adventuresome and strikingly handsome couple, Cecilia and Thomas, became husband and wife high above Sedona proper, at the magnificent Merry Go Round Rock! Bon Miller Wedding Photography caught it all, as the excited bride and groom and their guests traversed the winding, bouncy road in jeeps provided by A Day in the West, to this truly one-of-a-kind setting. Native American Medicine Man Mario Blackwolf, from the Mechica Apache tribe, performed the sacred ceremony, with the smell of sage dancing on the wind, and Oman Ken's Native American flute music filling the vistas with an ancient spiritual melody.
Upon their return to level ground, they landed at Los Abrigados Resort and Spa. As their guests enjoyed an inviting cocktail hour at Timo Restaurant, our newlyweds snuck off for a few more photos down by the creek. When they rejoined their party, they glided elegantly into their First Dance. Cecilia and Thomas then tipped their glasses together in celebration, as they  appreciated their unique cake, the topper being a whimsical expression of the moment that they met—on an airplane!
We send warm and happy wishes to you, Cecilia and Thomas, for a marriage graced with an exciting and romantic road that never ends!