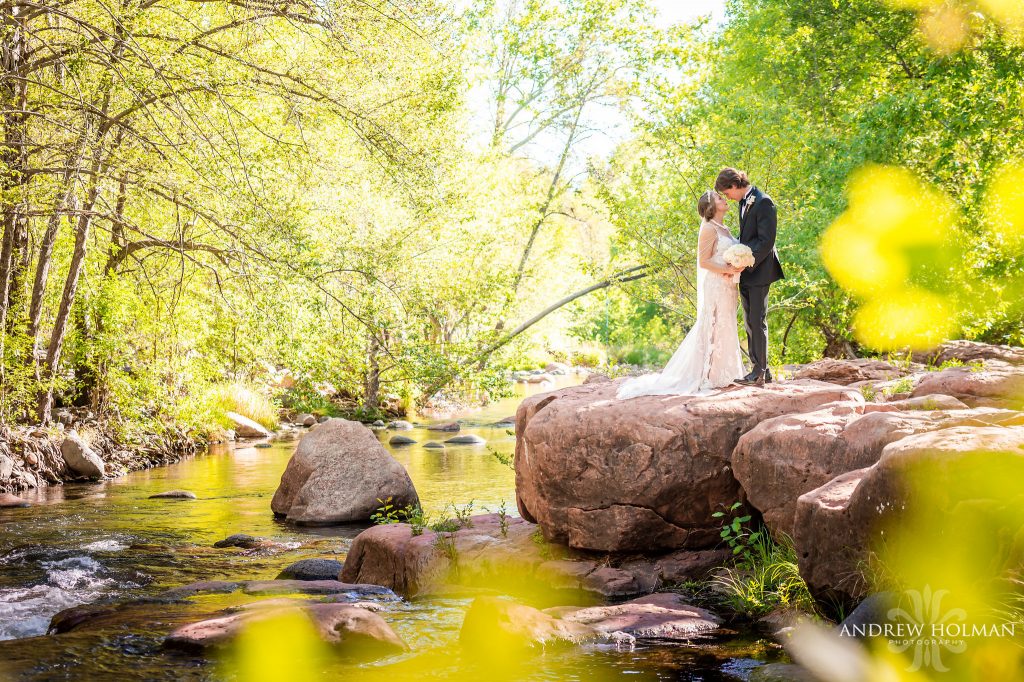 If ever there was a fairytale wedding, Sarah and Galen's fits the description perfectly! They chose a Great Gatsby theme at L'Auberge de Sedona: Elegant and chic, and with their meticulous planning, not a detail was overlooked. As you can see from the photos, the wedding was stunning from beginning to end. The love between Sarah and Galen was palpable. Their First Look by the creek was filled with joyous emotion, and was followed by an intimate ceremony up on the SpiritSong Terrace, with stunning views of the crimson red rocks for which Sedona is so famously known.

The springtime garden cocktail hour and reception gathering by the creek provided the opportunity for loved ones to relax and enjoy the lush surroundings and ambiance. The celebration was made even more special, with an exquisite string quartet playing in the background. Birdcages, vases, and the like were filled with fragrant floral overflow, and an abundance of candles and leafy decor graced the tables. This charming couple enjoyed hand-selecting each and every piece, creating a symphony of shimmering charm to the sheer delight of their guests!

Sarah and Galen, we're grateful to have played a part in your enchanting wedding, and we wish for you a lifetime filled with the kind of enriching moments that you experienced on your one-of-a-kind wedding day!

Our appreciation to the vendors that helped make it happen:

Anthony Flesch, Officiant
Andrew Holman Photography
Bliss Extraordinary Floral
Skylight City Quartette
Sedona Beauty Team
Verve Events & Tents