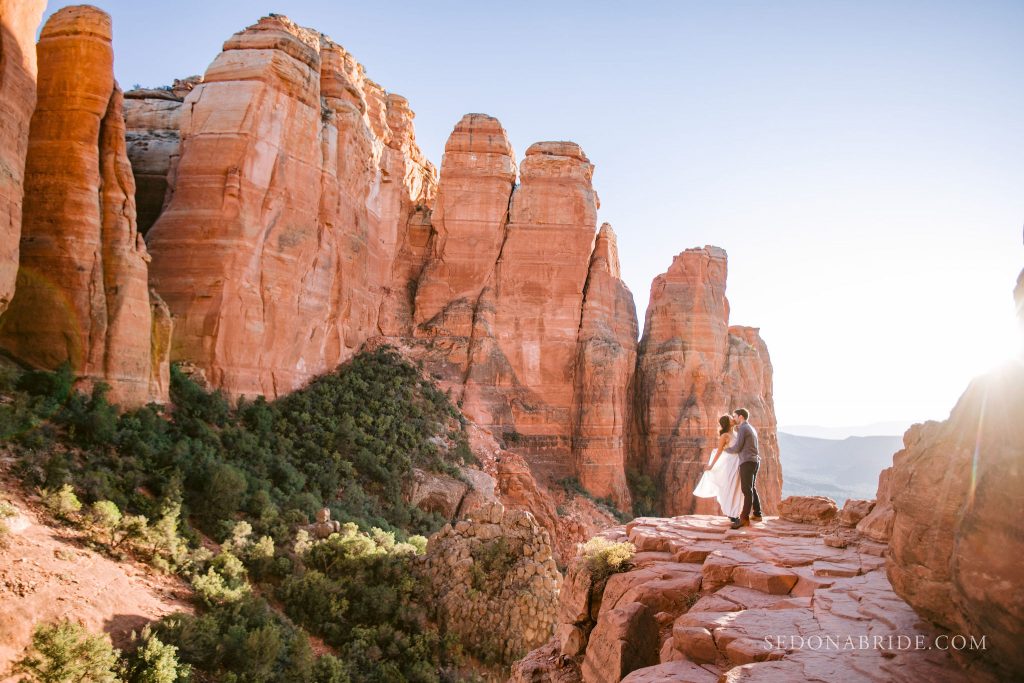 Planning a wedding in the next year or two? If so, and you haven't considered an engagement shoot, now is the time to think about it! In the hustle and bustle of the wedding planning process, the engagement shoot can often get overlooked. However, it is actually one of the most intimate and delightful ways to get away, just the two of you, enjoy each other among the inviting red rocks of Sedona, and make memories that will last a lifetime!
To give you an idea of what this experience can look like, we wanted to share with you a recent engagement shoot that we just absolutely adore! This particular shoot was an adventure, but even if you're not into scaling the heights that you see in these photos, Sedona offers many absolutely stunning backdrops that take only a few minutes to access.
Christine and Eli's engagement shoot was as exciting as it was romantic. This handsome couple had no problem hiking up the back side of Cathedral Rock to the Saddle, one of the most popular adventure locations for engagement shoots and elopements. And you can see why—the Saddle and surrounding landscapes are truly among the most stunning that Sedona has to offer!
Of course, in order to have the shoot be a success, you must have top-notch photography! Sedona Bride Photographers are just that. Their skill, combined with their genuinely caring and easy-going personalities, make their "Authentic, meaningful, moment-driven photography" an experience that will bring a smile to your faces long after the experience has ended.
AND, if these photos aren't exactly your style, we have MANY other highly-skilled photographers at our fingertips, waiting to capture your most heartfelt moments together. We will spend time getting to know you, and will work with you until we find a photographer and style that are the perfect fit for you!
We also wanted to give a shout-out thanks to Sedona Beauty Team, who did a test run for Christine's hair and makeup.
We hope you enjoy these photos as much as we do, and look forward to talking with you soon about setting up your personalized engagement shoot!