Sedona Wedding Locations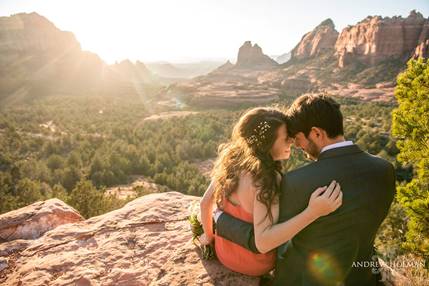 Photo by
:
Andrew Holman Photography
A Location For Every Desire
Sedona has a wide variety of venues that will create a wedding experience for you and your guests that will likely be beyond anyone's expectations!

Here are just a few examples. Please call our knowledgeable staff for more complete information about Sedona locations.
A breathtaking red rock site - let us know which one speaks to you!
Luxurious resorts
Unique resort-style settings
Quaint chapels

Creek side locations with lush green lawns and tall leafy trees

Intimate bed and breakfasts

And more!


Here are just a few of the words our happy brides and grooms have used to describe their Sedona wedding with us:
"A true fairytale come to life…A dream come true…Exceeded our expectations…All we had hoped for…Our wedding was perfect…All of our guests fell in love with Sedona…The most beautiful wedding [our guests] had ever attended!"
The following are just a small window into the array of options that Sedona has to offer you for your wedding day. We invite you to give us a call at 800-973-3762, tell us your vision, and explore Sedona venues with our knowledgeable staff for ideas specific to your needs.


Merry-Go-Round Rock

Enchantment Resort

Agave of Sedona


Photo by: Andrew Holman Photography

Lantern Light Inn
We are the exclusive Wedding Planners for Lantern Light Inn. 
[More Info]

Tlaquepaque/Patio de las Campanas Ceremony & Reception


Photos by: Andrew Holman Photography

Chapel at Tlaquepaque


Photos by: Andrew Holman Photography

L'Auberge de Sedona


Photos by: Andrew Holman Photography

As we mentioned, these are just a few examples of the possibilities you have available to you in our world-class wedding town! Give us a call for ideas about the perfect location for your wedding, or sketch out your vision on our contact form and see what's possible!