About Us
What a wonderful way to spend one's day – helping couples launch their lives in such a beautiful and special location as Sedona! We're "all in" to create a truly memorable and magical day – for you!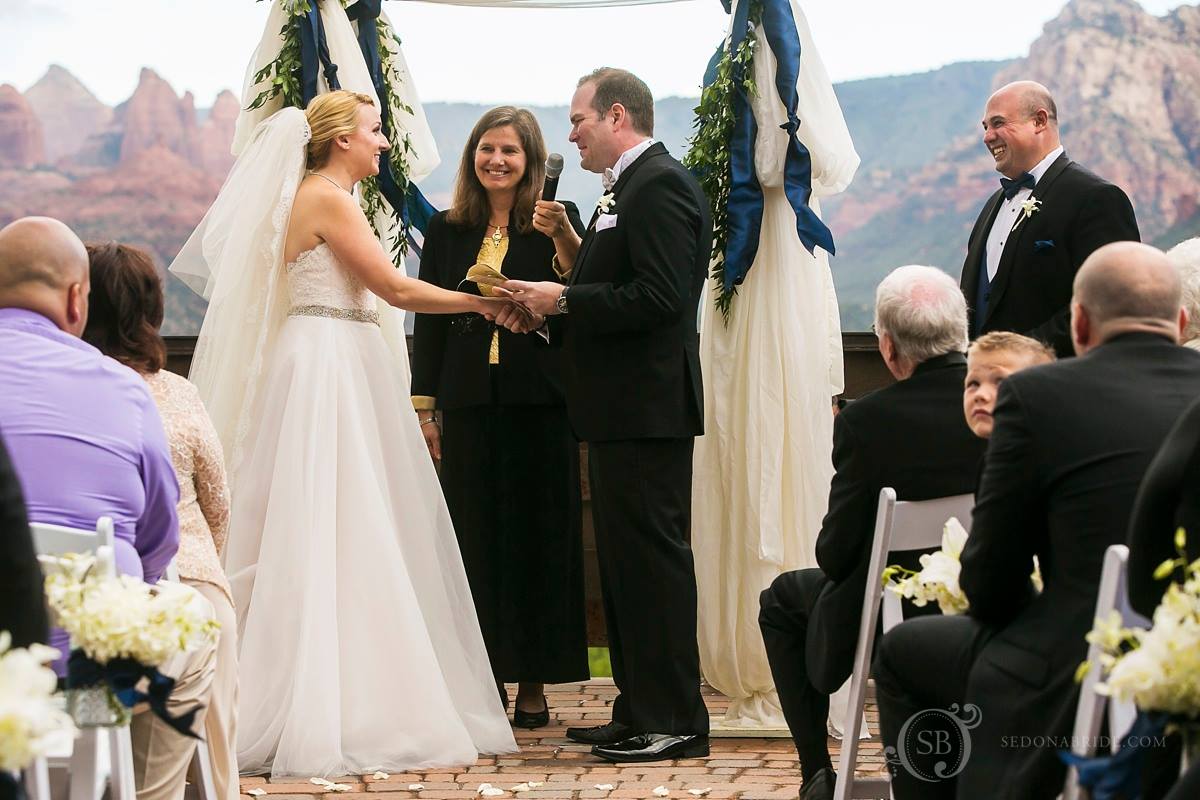 Susan Perry
Owner, Senior Planner, Licensed Minister
Our "story" of Weddings In Sedona began in 2004, when Anthony Flesch, the owner at that time, and current minister and musician for our company, sought out my help to work in the office part-time. Little did I know that I would one day buy the business from him eleven years later. What a journey it has been!
I have been an ordained Interfaith Minister since 1994, and have a small congregation, Sedona Interfaith Fellowship. I have been officiating at weddings and performing other ceremonies – such as memorials, vow renewals, and baptisms – ever since. A couple of the highlights include flying to Hawaii to officiate at a friend's wedding barefoot on a rocky beach, and having the honor of officiating at my niece's wedding in Brooklyn, New York, at the amazing Brooklyn Historical Society. I love to be involved in the intimate ceremonies out on the red rocks here in Sedona, where I have made my home since 1990.
Planning weddings and other special life events has touched a soft spot in my heart. I couldn't have foreseen that this would become such an integral part of my path in life – but what a beautiful expression of joy and beauty it is! While the 'business' of planning Sedona weddings may seem like any other job, it is so rewarding to help bring about these magical moments and memories for our couples.
My background has a broad range that I believe pairs well with wedding planning and coordination: many years in the hospitality industry; strong credentials in the office and with bookkeeping; administrative qualifications, among them founding and maintaining several nonprofit organizations; many years of customer service; and just a love for life, for people, for love!
Susan's many organizational skills amaze those around her. Her seemingly boundless energy and calm inner resources for bringing everything together seamlessly when that special day arrives, have made Weddings In Sedona what it is today: a respected and valued member of the Sedona wedding community, and an invaluable resource for newlyweds.
Alexandra Fraser
Planner, Social Media, Licensed Minister
When you call in to Weddings In Sedona, you'll likely have Alexandra Fraser's cheerful voice greeting you on the other end. She has been with us since 2012, and came to our company with exemplary office management and interpersonal skills. Her expertise in these areas, combined with her current knowledge of the wedding business, specifically Sedona weddings, has made her absolutely invaluable to our company. She brings both her broad range of abilities, and her upbeat and caring nature, to any job she encounters.
On any given day, you may find Alexandra either talking with one of our newly engaged couples about how we can help them create a beautiful, stress-free wedding; or you'll see her tending to the many details on the actual day of the wedding; or you might find her officiating a sweet, intimate elopement out on the stunning red rocks of Sedona. According to Alexandra, "Being a part of creating an extraordinarily special wedding day for our couples is a very meaningful and gratifying part of my life."
"Day Of" Coordinators
In addition to those that work in the office at Weddings In Sedona, our Day Of Coordinators are an amazing team. We oversee every last detail on the day of your wedding or event, to create a day that is as close to perfection as one can come. We will insulate you and your closest family members and friends as much as possible – this day is yours to enjoy, and so we do everything we can to make it so!