Lantern Light Inn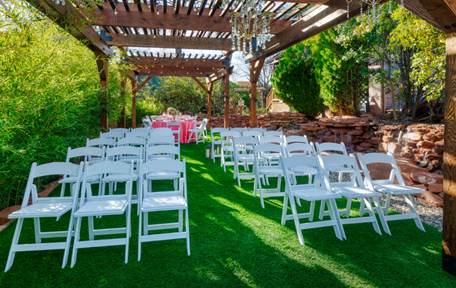 "Let Us Light Up Your Life Forever!"
We are proud to be the exclusive Wedding Planners for the Lantern Light Inn, a quaint, luxury Bed and Breakfast, conveniently located near some of the world's most stunning hiking trails, eclectic shopping and award-winning restaurants.
Weddings at Lantern Light 
When you host a wedding at Lantern Light Inn, you are creating a private space for you and your guests to thoroughly relax and enjoy. Buy out their 10 rooms at affordable pricing, and relish the comfortable lounge furniture atop sleepy porches, the lush flowers, grass and greenery, toasty firepits and the sparkling string lights, that grace the property. 
Lantern Light can accommodate both your outdoor ceremony and reception, or, have your ceremony out on the stunning red rocks and come back to either a quiet dinner reception, or blowout celebration reception with a lively DJ and dancing! The grounds can hold up to 50 people, and has plenty of room for an outdoor bar, as well.  
You can use any of our Outdoor Packages for your ceremony at the Inn, and we can add on your reception, or, we can create a custom plan for you. For more information and pricing, give us a call at 800-973-3762, or let us know more about your wedding here.
About Lantern Light 
You will feel right at home at this unique Inn, from the moment you enter their Courtyard. Personalized service coupled with their newly remodeled rooms, create a sense of true hospitality during your visit to Red Rock Country. This boutique Inn with aromatic gardens, a tranquil water feature and private rooms & suites, is located right in the heart of beautiful Red Rock County, just minutes from Uptown Sedona. 
Event Directors Frank & Daisy have known of each other since the age of 7, and have devoted themselves for 30 years to the Hospitality and Medical fields. With the support the owners, Dharmesh Vora and his Wife Colleen, they are committed to providing top-notch wedding experiences for each and every couple!
At Lantern Light, "There are no strangers here, only friends yet to meet."
For more information about a Lantern Light Inn wedding, give us a call at 800-973-3762, or let us know more about your wedding here.
10% Discount on Ceremony Packages and Custom Planning Fees
Book your wedding now for any date through March 2021, and receive 10% off any Ceremony Package Fee or our Planning Fee for Custom Planning!
We understand how challenging life is right now, but we still want you to have the wedding of your dreams here in beautiful Sedona!
(Offer does not apply to a la carte services or combined with any other offer. Offer expires June 30, 2020.)