Sedona – "The most beautiful place in America"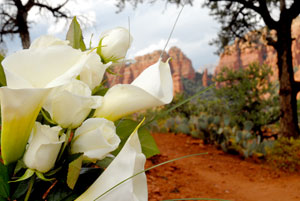 USA Weekend voted Sedona "The most beautiful place in America." No wonder it's one of the most popular wedding destinations in the U.S.!
Sedona, Arizona is situated in a unique setting, surrounded by majestic granite and red rock cliffs, home to sacred Indian ruins and pristine forests. And in the midst of this sits the beautiful resort town of Sedona. From upscale spa resorts to quaint and rustic cabins, Sedona can accommodate any taste and budget.
Because Sedona is such a popular wedding destination, your guests will have at their fingertips a myriad activities to choose from: jeep tours, horseback riding, golf, tennis, hiking, backpacking, gourmet restaurants and local eateries, swimming, picnics, poolside service, and of course, no getaway experience would be complete without shopping!
Weddings in Sedona can help you help your guests have a unique vacation experience, combined with the special memories of your wedding day beneath the backdrop of magnificent red rock formations, overlooking breathtaking panoramas from cliff vistas, sprawled over the luxurious lawns of a private ranch, or tucked away in a secluded Bed and Breakfast.
You might ask, how can I possibly plan a wedding in Sedona when I live in New York or Washington? Or even further, in Germany or Japan? Easily! With the help of Weddings in Sedona, that is! We're here to handle all of the details that go into any wedding planning, be it in your own home town or across the country.
We have the expertise to handle every detail with efficiency and grace, and we have all of the connections and networks established to ensure you of the most beautiful day you could imagine. Don't worry, we've done the work for you already! Sit back and relax! All of the time and energy it would take for you to search out and interview all of the service providers needed for your wedding you can now put toward enjoying the process.
We at Weddings in Sedona know how important your wedding day is to you. And we want to help you make that a reality. Call today for a free consultation, and tell us about your vision. 1-800-973-3762
Photo by Andrew Holman Photography