Obtaining Your Marriage License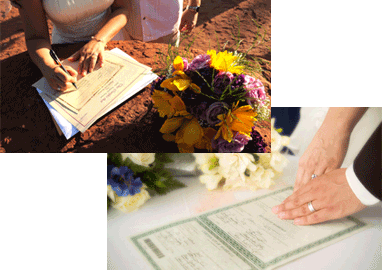 Arizona is wedding-friendly. No residency is required and there is no waiting period after you obtain your marriage license (licenses are processed in about twenty minutes.)
A license is good for one year from the date of issue and may be used anywhere within the state of Arizona.
When you work with us, part of our service is to give you detailed instructions on how to get your marriage license in the Sedona area. It's very easy – a quick visit to a local courthouse is all it takes.
To view more detailed information on obtaining your marriage license in the Phoenix area, visit http://www.clerkofcourt.maricopa.gov/marlic.asp
In addition to your Arizona state license, Weddings in Sedona will give you a beautiful full color marriage certificate suitable for framing.
Top Photo by Andrew Holman Photography
Bottom Photo by Bob Coates