Ten things to know about planning a wedding in Sedona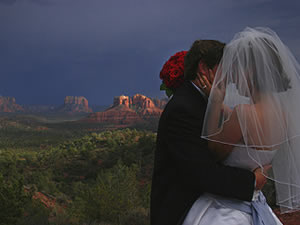 1. Sedona can accommodate virtually any budget
You don't need to spend a lot to enjoy the natural beauty of Sedona. Most wedding planners and consultants offer affordable packages for small, intimate weddings. On the other hand, if you would like to have an elegant, fairytale wedding, Sedona has beautiful, upscale resorts, inns and caterers who can provide world-class cuisine, appointments and services. From two to two hundred, from simple to lavish, Sedona can accommodate all types of weddings.
2. Sedona is a year-round wedding location
While Sedona does have four distinct seasons, neither the heat of Summer or the cold of Winter is too intense to enjoy a wedding outdoors. To be sure, the weather is most pleasant in Spring or Fall, but we have some beautiful days in the Winter (today is mid-December, and it´s about 68 degrees outside). And, if you know where to go, and what time to go there, the Summer can be quite pleasant, too. We´re at an altitude of about 4,500 feet, so temperatures here are quite a bit cooler than in the Phoenix area, roughly 100 miles to the South.
3. We can´t guarantee good weather
Sedona is a year-round wedding destination, with more than 300 days of sunshine in an average year, so your chances of getting a beautiful day are pretty good! But, of course, it´s impossible to guarantee perfect weather. If, however, you´re nervous about rain, we can easily and inexpensively line up a backup indoor location for you.
The rainy seasons are (a) in the Winter, when Pacific storms periodically roll in from the West, and (b) late July through August, when we get some "monsoon" thunderstorms, usually in the mid-afternoon.
4. Don´t try to duplicate what you might do in your home town.
In other words, take advantage of what Sedona, uniquely, has to offer. There doesn´t seem to be much point in having your wedding indoors, in a hall which could be duplicated anywhere in the country, when there are awesome red rock and creek landscapes just outside. Talk to your wedding planning consultant to discover the perfect location for your wedding.
5. We have world-class amenities – you just need to know where to find them!
Because Sedona is such a popular wedding and tourist destination, you´ll find professionals and amenities here to rival those in any major city in the world. Because it´s a small town, however, there will be some services which are not up to the standard you might expect in a large city. Your planner/consultant will know who offers the quality services you will want on and around your wedding day.
6. Sedona "rolls up the sidewalks" early
There are only a few locations in which your reception party can continue loud, late and long into the night. Sedona has strict noise ordinances, and neighbors who are happy to help the police enforce them! There are, however, some locations which can accommodate a band or a DJ a little later. Your planner/consultant should know which these are.
7. Busy seasons
Because Spring and Fall are the most beautiful times of year in Sedona, they are also the most popular – and that means for all tourism, including destination weddings. So, for mid-sized or larger weddings in April, May or October, please book well in advance. Smaller weddings at these times are not a problem.
8. Short notice weddings are not a problem, but it´s still best to book far in advance
Although Sedona is one of the most popular wedding and tourist destinations in the U.S. (we get 4 million visitors every year) it´s still a small town. That means that there are only so many possible locations for your wedding, and that these get booked up quickly, especially in the busy seasons.
9. The upscale wedding in Sedona will typically cost a little less than in a major city
While Sedona is not exactly inexpensive, you´ll find that the resorts and upscale locations for having your ideal wedding are a little more affordable than those of a comparable quality in or near major cities. Our current research indicates that you´ll encounter pricing about 10% lower than you might find in a major metropolitan area.
10. Distance is not a problem
Since we have email and the web, we have the ability to send photographs easily, and show you locations long distance. We´re used to dealing with clients from all over the U.S. – and all over the world – and we have yet to have a client say they were disappointed with the location we picked out for them, based on their instructions and direction.
Working with a local planner/consultant makes it all easier. Whether you know Sedona well, or have never visited here before, we pride ourselves on being able to discover just what you´re trying to create, and create it for you here, based on our knowledge of the area, its facilities and its people.
Photo by David Beckstead