Mountains and valleys and canyons, oh my!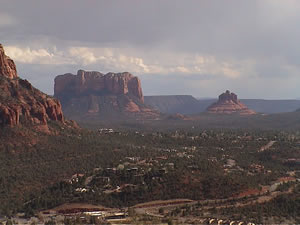 If you want to expand your horizons — literally and metaphorically — several nearby destinations offer a change of scenery and some insight into Arizona's past.
Red rocks and vortexes — In the 1950s and '60s, the rugged red rock formations and endless blue skies of Sedona served as stand-ins for the Old West in dozens of cowboy flicks. These days, the town has become a star in its own right, especially among New Agers and shoppers. Even if you don't believe in the power of Sedona's vortexes (energy centers) and aren't interested in art galleries, you can't help but be wowed by the scenery.
Once you've made the 90-minute trek north, start out by exploring the area on a Jeep tour; of the several operators on the main drag of Uptown Sedona, Pink Jeep (204 N. Highway 89A; 800-873-3662; www.pinkjeep.com) has the most options. Worked up an appetite for lunch? Look down at the town and the red rocks from the rooftop deck of Oaxaca (321 N. Hwy. 89A; 928-282-4179; www.oaxacarestaurant.com) while you down some chile rellenos. Afterwards — if prickly pear margaritas haven't clouded your judgment — browse the shops in Tlaquepaque (Hwy. 179 at the bridge; 928-282-4838; www.tlaq.com), modeled after the crafts village of that name near Guadalajara (though the prices here don't resemble anything south of the border). 800-288-7336; www.visitsedona.com.
Wing it to the abyss — Grand Canyon Airlines offers daily round-trip flight tours in high season to Arizona's most famous attraction from the Scottsdale Airport. The Grand Deluxe Tour, which offers a ground excursion around the canyon on a luxury coach (approximately 4½ hours, including rim stops, lunch and the Grand Canyon IMAX film), costs $299. Deduct $30 if you want to pass on the bus tour, film, and lunch and tool around on your own; add $100 if you want to buzz over the canyon in a helicopter. In total, the tours are about nine hours long, and include complimentary ground transportation to and from most Scottsdale hotels. 866-2FLY-GCA; www.grandcanyonairlines.com.
Go underground — For a rare chance to explore a living cave system, head about 160 miles south of Phoenix to Kartchner Caverns State Park. Detailed in the visitor center, the back story about how the caverns were discovered in 1974 — and kept hidden from the public for years — is fascinating. Tours of the Big Room, which debuted in late 2003, are the best of the two offered, but bats like to hang out here , too, so this section of the cave system is closed between April 15 and October 15. The other tour, of the Rotunda-Throne Room, is also extremely popular, so be sure to call ahead for reservations as soon as you know the dates of your visit (and be prepared to wait on the phone line). There are only vending machines on the grounds, but you'll be in a scenic desert and mountain area, so bring a picnic. If you're not visiting during summer's heat, plan to hike on one of the many available trails.
The park is open daily from 7:30 a.m. to 6 p.m.; cave tours run approximately every 20 minutes from 8:30 a.m to 4:30 p.m. The Rotunda-Throne tour (available year-round) costs $18.95 adults, $9.95 kids 7 to 13, free for kids 6 and under. The Big Room tour (offered October 15 to April 15 only) costs $22.95 adults, $12.95 kids 7 to 13. Kids under 6 are not permitted on this tour. Benson, Hwy. 90 (9 miles south of exit 302 of I-10); 520-586-CAVE (reservations); www.pr.state.az.us/Parks/parkhtml/kartchner.html.
The big house — Learn about the Hohokam people, who cultivated central Arizona in the pre-freeway era, at Casa Grande Ruins National Monument, the nation's first prehistoric cultural preserve (established in 1892). Archaeologists still aren't quite sure about the purpose of the four-story "casa grande" or the other structures, such as the 25 ovens found near one of the site's ball courts. Located 35 minutes southeast of Phoenix in Coolidge, Casa Grande is open daily from 8 a.m. to 5 p.m. Admission is $3 for adults and free for kids under 17. 1100 Ruins Dr.; 520-723-3172; www.nps.gov/cagr.
Scenic history — The Apache Trail, created between 1906 to 1911 to haul materials to build the Theodore Roosevelt Dam, was designated Arizona's first historic and scenic highway in 1988. It won't disappoint on either count. In addition to some of the most spectacular scenery in the state, highlights along the way include the Lost Dutchman State Park (480-982-4485; www.pr.state.az.us/Parks/parkhtml/dutchman.html), now more popular with hikers looking to climb the craggy, volcanically formed Superstition Mountains than with prospectors seeking to find the gold reputed to be in them; Canyon Lake, known for fishing, boating and boarding the Dolly steamboat (480-827-9144; www.dollysteamboat.com), a replica of a 100-foot double-deck sternwheeler; Tortilla Flat (www.tortillaflataz.com), a 1904 stagecoach stop resembling a Western film set; Apache Lake, another water sports mecca; and, of course, Theodore Roosevelt Dam (www.usbr.gov/dataweb/dams/az10317.htm), the world's highest masonry dam.
If you're up for a burger or biscuits and gravy, stop for lunch at the Superstition Saloon at Tortilla Flat (480-984-1776; www.tortillaflataz.com/Dining_1.htm). The restaurant at the Apache Lake Marina & Resort (928-467-2511; www.apachelake.com) serves up good seafood and lovely lake vistas.
The 48-mile (one-way) trail starts at Apache Junction, about 20 minutes east of central Phoenix. The winding drive through rugged mountain passes — in one section on an unpaved road — isn't for the faint-hearted. If you fall into that category, or want interesting historic narration, consider a tour with Apache Trail Tours & Superstition Mountain Adventures. 480-982-7661; www.apachetrailtours.com.
More about Sedona Arizona.
our gift to you...
WHEN YOU BOOK YOUR WEDDING
A beautiful 45-minute DVD of Sedona Through the Seasons (Product subject to change)
military discount
IN GRATITUDE FOR YOUR SERVICE TO OUR COUNTRY
Let us know if you are actively serving