Wedding Packages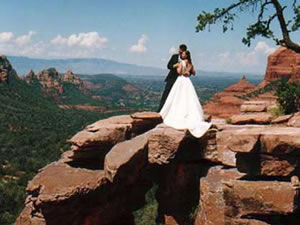 Romantic Wedding Packages For Intimate Weddings and Elopements
(Suitable for groups of up to 30 or so; for larger groups, we offer Custom Planning Services)
After working with couples for years, we have discovered that there are certain common denominators that most couples want at their weddings.
To cater to these desires, and to make life simpler, we have developed packages which provide a romantic yet affordable wedding for smaller groups. All with the level of quality and professionalism that Weddings In Sedona provides. You may experience our comprehensive packages "as is," or customize them with a virtually unlimited range of services. They may also be combined with a "mini-reception" or elegant dinner.
Outdoor Wedding Packages
Chapel Wedding Packages

The Red Rock Floral
The Sedona Secret
The Shaman's Blessing
The Red Rock Elegant
The Red Rock Balloon

The Red Rock Chapel "basic"
The Red Rock Chapel "elegant"
The Red Rock Chapel "abundant" (TlaquePaque)
The Red Rock Chapel "abundant" (Sedona Creative Life Center)

Photo by Nora Stewart

our gift to you...
WHEN YOU BOOK YOUR WEDDING
A beautiful 45-minute DVD of Sedona Through the Seasons (Product subject to change)
military discount
IN GRATITUDE FOR YOUR SERVICE TO OUR COUNTRY
Let us know if you are actively serving